Peachy's Web World
---
Kitty Litter Cake
One of my co-workers brought this for a meeting. I couldn't eat it, it was so real looking. The recipe follows the picture.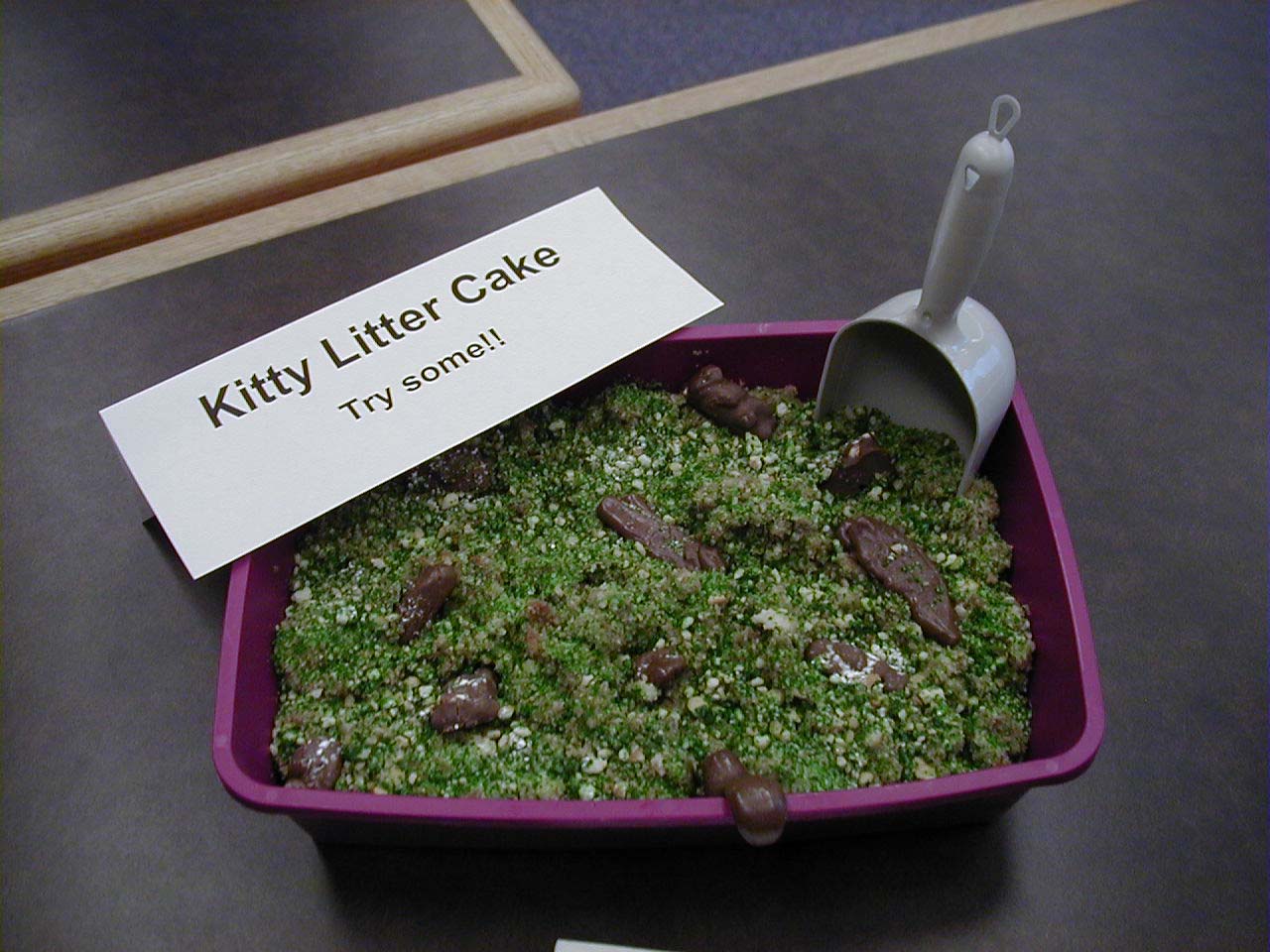 Ingredients
1 package white cake mix
1 package spice cake mix
1 box vanilla wafers
2 packages instant vanilla pudding
4 cups milk (to prepare the pudding)
green food colouring
tootsie rolls and/or small Oh Henry chocolate bars
icing sugar (if desired)
kitty litter pan to hold the cake
litter scoop for serving the cake
Method
Bake cakes separately according to package directions.
Crumble and mix the two cakes in a very large container or the litter pan.
Crush vanilla wafers and colour 1 cup of the crumbs with green food colouring (it takes a lot of food colouring). Reserve the coloured crumbs for decoration.
Prepare pudding according to package directions.
Add the uncoloured wafer crumbs to the cake and mix.
Combine the cake/crumb mixture with the pudding and spread in the litter pan.
Decoration - this is where the artist in you comes out!
Heat tootsie rolls in microwave for 10 seconds and shape realistically.
Oh Henry bars - coat with honey and roll in the wafer crumbs (coloured or uncoloured).
Place tootsie rolls and chocolate bars in or on the cake mixture.
Spread the green crumbs over the top of the cake.
Sprinkle with icing sugar (if desired).
Enjoy - if you can stomach it!!
---
Home - Sign my guestbook - Send an E-card - Somersizing - Pass it on
Comments regarding content or presentation can be forwarded to Peachy
Last Review / Update -- June 22, 2000

Copyright © 1999